Over the past 21 years, the scholarship fund has supported nearly 200 students in Kenya with their studies. Here are a few of their stories.
Makenna's Story
Makenna's story was recorded during a June 2018 meeting in Narobi, Kenya, with current and past Budd scholars.
Synaida's Story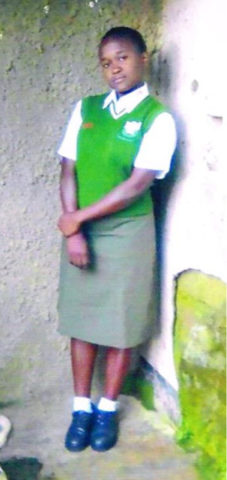 Born on the April 1st, 2004, in a family of 5 siblings and as the 2nd born in the family of the late Aggrey and Rose in Kakamega County. Synaida has been brought up by a single mother who is a peasant farmer. Her father passed on while she was in primary school, this left her feeling discriminated against but was uplifted spiritually and socially by her pastor. Synaida did her KCPE in 2017 and attained 382 marks and was admitted to a National high school, but due to lack of school fees her mother opted to take her to a local Girls School. Her mother has single handedly struggled to educate her and her siblings, but it has not been easy. Synaida promises to work hard and turn the fortunes of the family as she hopes to pursue her dream of becoming a lawyer and be a pillar to her community. NCCK Western Regional Committee recommended Synaida due to her good performance and determination which will assure her a great future.
Her performance in school is average but promising if it is not interrupted.
Here are links to the profiles of students chosen as Budd Scholars in 2021